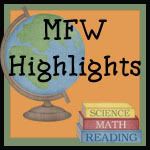 I'm linking up with My Father's World Highlights this week at
2 ladybugs and a lizard.
Does anyone remember when I started my blog and all the titles were 80s songs? (Sigh) Good times. Today's post title gets a song thumping in my head. Was it James Brown? Yes, it was.
Isn't the above just lovely? For me it is. Something so simple has made my homeschool days so much easier. My two heroes, Josh and Mister, put this Target bookcase together for me last weekend and it is in the corner of the kitchen. It keeps our geography notebooks, my teacher's guide and plan book, and things like staplers and hole punches nearby and off my kitchen counters. Yeah! And I love that I found Tiffany blue cubes to match my walls and give a little color and class to it.
As stated in the title, we're in America right now as we begin our exploration of the world using My Father's World Exploring Countries and Cultures. This week we did some mapping of forest biomes and some familiar states in the US. For art, the kids did Native American sand paintings.
Mister calls his "No Money". The man he made, his pockets are hanging out. Empty. No money. What a funny guy.
It wasn't officially our week to cook, but next Friday we'll be on a field trip (weather permitting) so the kids and I made Philadelphia soft pretzels today. Here they are rolling the dough into ropes.
Petite brushes the twisted pretzel ropes with egg. Notice the dough on her face?
And here is the finished product. I ate mine with mustard. Brown-Eyed Girl tried it that way too, but decided she didn't like the pretzels. The recipe called for whole wheat flour so they weren't as reminiscent of Super Pretzels. I hesitated over this, but I wanted them to be authentic. The Pennsylvania Deutsch (Germans) are credited with this popular bread snack, so I wonder if they orignally made them with whole wheat flour? While I was snacking on mine, perusing my newest issue of the Food Network magazine, there was a whole page dedicated to the Philadelphia pretzel. If you are in the City of Brotherly Love, you can get one in the shape of the Phillies or Eagles logo. Or have a pretzel sandwich. Or an ice cream sundae with a side of salted pretzels with caramel. I think it's time for a road trip, don't you?
So my updated thoughts on all things homeschool:
I'm very very busy this year. School takes a while to complete. Three hours a day? Yeah right!
We all like the notebooking pages that come with ECC. The kids like showing Daddy when he comes home and I like that I have lots of "proof" of what we're doing. They are learning valuable skills too.
My kids are troopers. They are really digging deep to complete a higher level of work and to do it with cheerfulness.
My house easily gets in disarray. But I find that it only takes about 10 or 15 minutes to restore order, and that it can wait til evening.
I am more and more convinced this is God's call on my life, even though it takes a lot out of me.