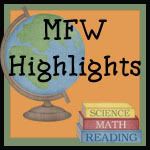 This week I'm linking up with MFW Highlights at
Discover Their Gifts.
The past two weeks we spent "in" Canada.
The more I learn about Canada, the more I want to go there! What a beautiful country of diverse landscape it is. Being Mainers, we're very close to our northern neighbors, although it used to be much easier to get over the border for a visit.
Some fun extras we did in the past two weeks included watching the first part of The Anne of Green Gables saga. It is one of my all time favorites, but the kids' attention fizzled out once we put tape two in (yes, I still have it on VHS). We also watched the 1966 version of Paddle-to-the-Sea (found on youtube). We read the book last year and we all loved it. I read
Owls in the Family
aloud and we all thoroughly enjoyed this book as well. It's one that will stick in our memories, I think. I love the power of literature! We learned more about prairies, owls, ornithology, chinooks, and Canada and in a more memorable way than a textbook could ever tell us!
We spent a few days homeschooling during a visit to Nana and Pop-Pop. I found it really easy to pack of our MFW curriculum and get everything done even though we were away. Back home again, we did the Inuit Soap Carving craft from Global Art. The kids really enjoyed this and did a great job.
Brown Eyed Girl made a tulip. Mister made a crescent moon.
We also had High Tea, as many still do in British Columbia. It was a Tupperware/Fisher Price style High Tea, though we did have savories, tiny sandwiches, and scones.
B-E-G enjoyed the tea, Mister and Petite just dipped their food in theirs.
Who can resist tiny peanut butter sandwiches with a dollop of jam on top?
Exploring Countries and Cultures has a really fun Geography game included in the student sheets and teacher supplement. We use chocolate chips or Cheerios as game markers. The goal is to draw a country card and place a marker on the map in the correct place. Each country has a number. You then turn the card over to see if you chose the correct place as indicated by the number. I learned all of the North and Central American countries and the kids have learned most of them.
One of my favorite parts of our visits to other countries is the celebration we have as we get ready to depart. We had a great Canadian feast complete with baked fish, scalloped potatoes, and a maple pudding cake. Everything was delicious.
We also finished our first missionary biography about Cameron Townsend. I learned to do some condensing and eliminating of dates and redundant names to make it easier for the kids to listen to and we were all blessed. Townsend is the founder of Wycliffe Bible Translators and the book really showed us the importance of all people having the Bible in their native language.
Next week we take off for Brazil. Carnival here we come!